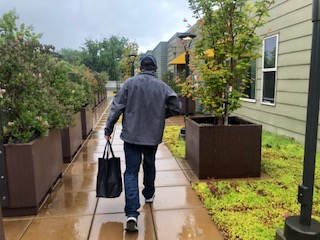 VIDEO: "Hello, who is it???"
Have you met Tylor, one of our Resident Services Coordinators? Usually he's busy helping seniors with anything from signing up for Medicare to putting on one of our "Healthy Homes" programs. These days, with the help of generous donations and our partner Food for Lane County, he's been very busy delivering food bags to isolating seniors.
Did you know, in Lane County, the average senior, on social security, lives on $1,100 per month? When the budget gets tight, studies show one of the first things people give up is food. During Covid-19, many outreach and resource programs have had to postpone or cancel altogether. Many of those programs help connect seniors, on a fixed income, to nutritious food.
Donations from wonderful folks like YOU are helping seniors stay safe and healthy at home during this pandemic.