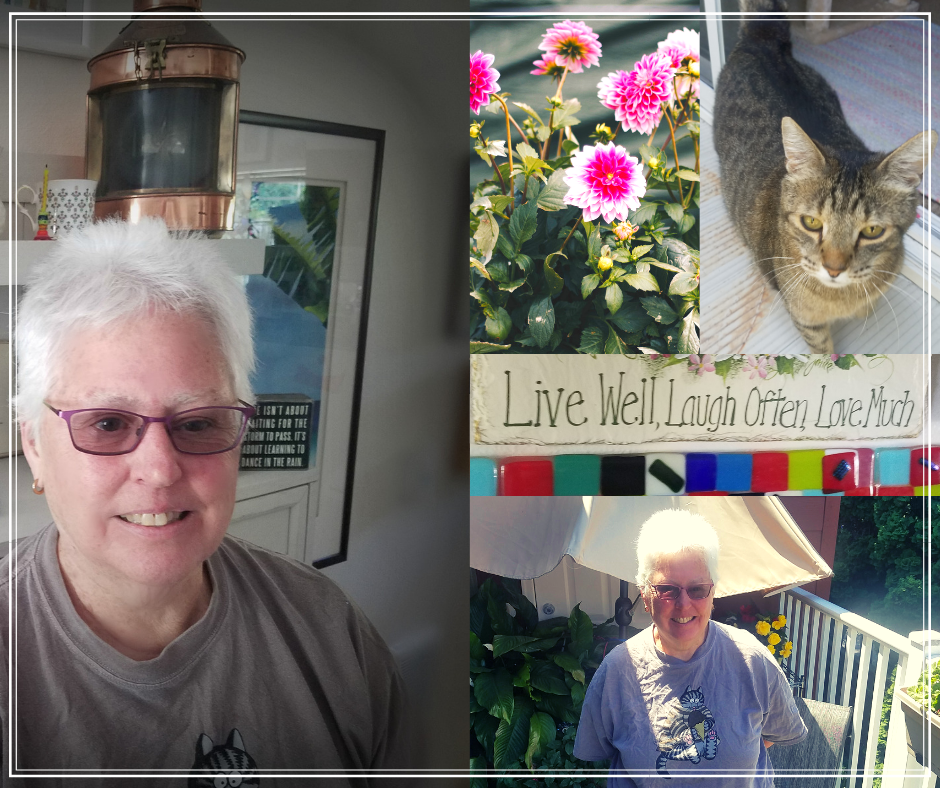 An Absolute Gift: Sarah's Story of Gratitude
Live Well, Laugh Often, Love Much . . . within minutes of meeting Sarah, you can see why these words resonate with her! Entering her home, you're greeted by Sir Robert, her very vocal and loving rescue tabby cat. Colorful handmade tiles hang above her stove and placed among the tiles is a simple wooden sign that reads: Live Well, Laugh Often, Love Much. Sarah is warm and friendly, with a healthy mix of no-nonsense.
Meeting Sarah, it's hard to believe just six months ago, she'd found herself in a dire financial situation.
Sarah is 73 and like many seniors' in our community, she lives on a tight fixed income. She'd happily lived in apartments for adults 55+ when she started receiving regular rent increases.  She was walking to the market and opening her mail the day she received her last rent increase of $300 per month. She remembers clearly the feeling of powerlessness as she read the letter.
"I had to take a break and sit down in order to regain my composure."
Sarah would be paying nearly 90% of her monthly income. Her mind raced with thoughts of how she would feed herself, afford her medication or pay for other necessities. She tried to remain positive, but she felt helpless.
After the final rent increase she recalls, "I would ride the bus to doctors' appointments, staring out the window just wondering if I would be sleeping under a tree, would that be a safe place for me when I run out of money? I was going through my modest savings so quickly, at times I thought it would be easier if I died young."
Knowing that she had no one to turn to if she became homeless, she needed to be proactive. She says, "I applied for every type of housing available. It took two years before I received a call that an affordable one-bedroom was going to be open. I signed the lease immediately."
When Sarah was finally able to see her new Cornerstone home, she was floored. "I thought, wow, this is so nice. It's so quiet and I can have the flowers I love on my balcony. It was an absolute gift."
Sarah has made her apartment a truly welcoming home and her balcony is indeed filled with flowers. She has lived in her new community for six months; she is safe and happy. Long gone are the fears that she will be sleeping under a tree.
Sarah explains how her mental and physical health have both improved since moving to her Cornerstone community. "I am able to start saving again, eat and have some money to do things in my community. I still have to budget very conscientiously to protect my future, but that's okay." Sarah hopes to begin volunteering and finding ways to give back, she wants to show her gratitude for the wonderful home she now has.